TSO Supports Lee Zeldin for Governor!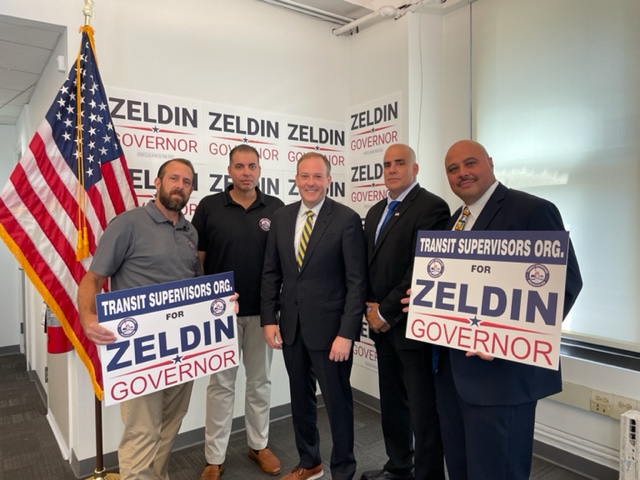 TSO President Phil Valenti, Vice President Joe Betancourt, Recording Secretary/Senior Political Director Jose DeJesus and Queens Division Chairman/Political Director Todd Napoletano met Congressman Lee Zeldin and proudly announce the TSO's support of Mr. Zeldin for Governor of the State of New York. The TSO asks that on November 8, 2022 you vote for Freedom and Security, Vote Zeldin for Governor!
Lee Zeldin's Platform
Lee Zeldin trails Gov. Kathy Hochul by just 4 points, new poll finds.
Republican Rep. Lee Zeldin is closing in on incumbent Gov. Kathy Hochul in New York's tightening gubernatorial race, a poll released Saturday found.
The survey, conducted by the independent Trafalgar Group, found Hochul with just a 4 percent lead over the Long Island congressman — a significant narrowing in a race that has seen Hochul with a lead of up to 24 points.
The poll of 1,091 likely general election voters, conducted on Wednesday and Thursday, pegged Hochul at 47.8% — and Zeldin, at 43.4%, nipping at the Democrat's heels.
That put the governor's lead outside the poll's 2.9% margin of error — but not by much.
An additional 2.7% of respondents said they support Libertarian Larry Sharpe, with 6.7% undecided.
The race's last poll, released Aug. 23 and conducted by SurveyUSA on behalf of WNYT-TV in Albany, found Hochul with an overwhelming 55% support, compared to 31% for Zeldin and 14% undecided.
https://nypost.com/2022/09/03/lee-zeldin-trails-gov-kathy-hochul-by-just-4-points-new-poll-finds/